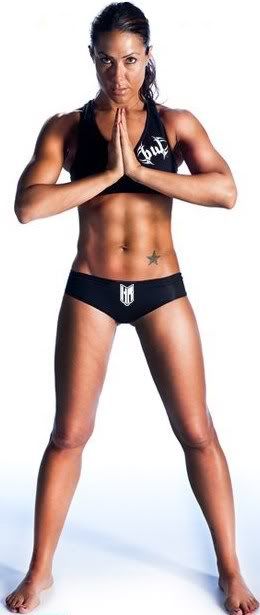 On Saturday, April, 28 at Invicta Fighting Championships 1: "Coenen vs. Ruyssen" at Memorial Hall in Kansas City, Missouri
Michele Gutierrez (3-2-0) will take on Sarah Maloy (2-2-0) in a 125-pound professional MMA match.
Michele is a 5'6 30 year old fighter from las Vegas, Nevada. She trains at Throwdown Gym.
Michele is coming off of a disappointing fight against Amanda LaVoy in which she was winning before a cut over her eye caused by an elbow forced the referee to call an end to their fight resulting in a TKO loss for Michele.
Before that loss Michele had won three fights in a row including victories over Tammie Schneider (TKO), Cassie Rodish and Amy Stacey (TKO)
The only other loss on her record came against Felice Herrig in her professional debut.
Michele is known as a stand up fighter with two of her victories coming by TKO.
Sarah is a 5'5 29 year old fighter from Ada, Oklahoma. She trains at and owns Body Tech MMA Fitness.
Sarah has also had very disappointing experiences in her last two contracted matches. She was scheduled to face amongst all people Amanda LaVoy late last year but because of communication issues between the fighters and the promotion Amanda pulled out of the fight as Sarah waited for her in the cage. Her other disappointing experience happened before that in a title fight vs. Katie Merill. On the way to the arena on the day of her fight she fell down some stairs and injured herself causing her to pull out of her fight.
I got to interview these two lovely ladies at G2 summit before they knew they would be fighting. click read more to see the video interviews.
The last time Sarah did actually get a chance to fight in the cage she lost to Sally Krumdiak by armbar. She is currently on a two fight losing streak including a loss to Avery Vilche. Sarah last two losses have come against opponents who have recently dropped to 115-pounds.
before her losing streak Sarah started her professional career with two straight wins against Charlene Smith (rear-naked choke) and Rosa Columbo (armbar)
Sarah is known as a submission specialist with two of her victories coming by submission.
I had a chance to interview these two lovely ladies at G2 summit before they knew they would be fighting each other. To see the video interviews click read more below.