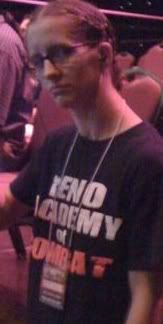 On Saturday July, 23 at Ultimate Reno Combat 26 in Reno, Nevada.
#14 ranked 115-pound fighter Kathryn Davis (3-1-1) defeated #15 ranked 115-pound fighter Maria Adaverde (4-3-0) by TKO (ref stoppage due to a cut) at 2:37 of the second round in their 115-pound amateur MMA match.
Kathryn is coming off of a draw against Kayana Rain, in a fight that she would have won if not for having a point taken away for an illegal head butt.
Kathryn trains with Taylor Stratford at Reno Academy of Combat in Reno, Nevada.