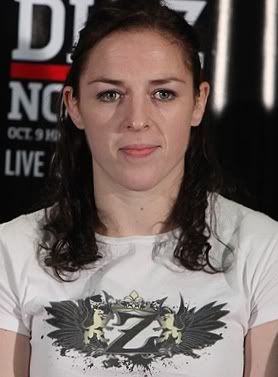 On Friday July, 22 at Strikeforce: Challengers 17 at Palms Casino & Resort in Las Vegas, Nevada.
#2 ranked 135-pound fighter Sarah Kaufman (14-1-0) defeated #5 ranked 135-pound fighter Liz "Girl-Rilla" Carmouche (6-2-0) by unanimous decision in their 135-pound professional MMA match.
Sarah has now won two fights in a row since losing her Strikeforce 135-pound title to Marloes Coenen on October, 9th 2010.
After her victory Sarah was quick to challenge the winner of the Marloes Coenen vs. Miesha Tate title fight that will be taking place on July, 30th in Illinois at Strikeforce: "Fedor vs. Henderson." She did also state that she would like Marloes to win so that she could avenge the only loss on her record.
Sarah trains at Zugec Ultimate Martial Arts in Victoria, British Columbia, Canada, where she is coached by Adam Zugec.
To see the fight video click read more below.