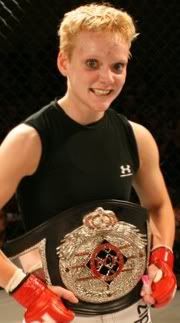 On Friday July, 23 at Freestyle Cage Fighting 48 at FireLake Grand Casino in Shawnee, Oklahoma.
#10 ranked 125-pound fighter Sally Krumdiack (9-4-0) defeated Sarah Maloy (2-2-0) by submission (armbar) at 2:51 of the second round in their 120-pound professional MMA Championship match.
This fight was a title defense for Sally of the FCF 125-pound title that she won in October of 2009.
Sally last fight was against Rosi Sexton in November of last year. Rosi won that fight by TKO.
She trains at Charlie's Combat Club in Everett, Washington.