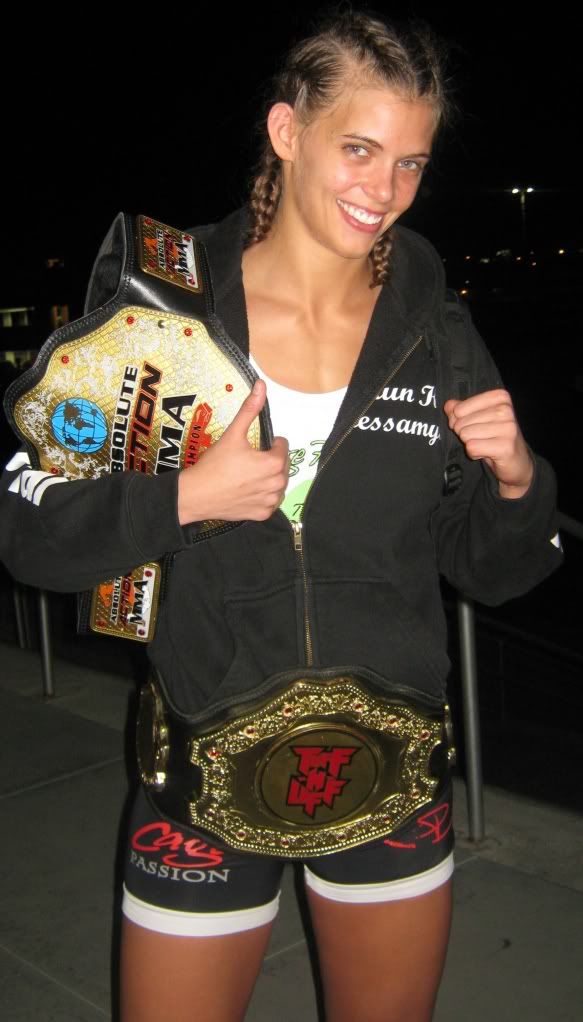 On Friday July, 1 at Tuff-N-Uff: Future Stars Of MMA at Cox Pavilion in Las Vegas, Nevada.
#8 ranked 145-pound fighter Jessamyn Duke (4-1-0) defeated #11 ranked 145-pound fighter Autumn Richardson (3-5-0) by unanimous decision in their 145-pound amateur championship MMA match.
In what was a very close fight Jessamyn was able to edge out Autumn with her many submission attempts.
It was a back and forth fight that saw both fighters reverse each other from the bottom.
Jess has now won three fights in a row since losing the first fight of her career to Ashlee Evans-Smith back on January 7th. In her last fight on May, 7 she defeated Crystal Bentley to defend her 145-pound AAMMA title. before that on April 2nd she defeated Sarah Cook to win the 145-pound AAMMA amateur championship.
Jessamyn is set to begin shooting for a reality television show that will air on VH-1 that will focus on the lives of female mixed martial artist in and out of the cage.
She trains at Team AFS in Richmond, Kentucky where she is coached by Scott Elliott.
To see the fight video and the post-fight video interview click read more below.