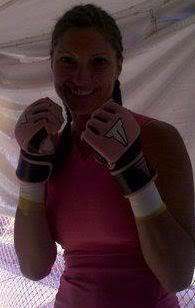 On Friday July, 15 at Big John's MMA: "Brown Trout Beatdown" at Brown Trout Festival in Alpena, Michigan.

Christine Danitz (2-1-0) defeated Kristen (0-1-0) by TKO (ref stoppage) in the third round of their 145-pound amateur MMA match.
Christine trains at Extreme Fighting Systems in West Branch, Michigan, where she is coached by Carolyn Biskup.