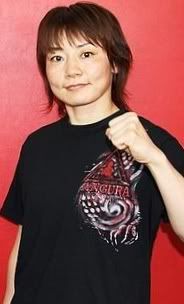 On Saturday July, 9 at Jewels: "15th Ring" at Shinjuku Face in Tokyo, Japan.

Yuka "Vale Tudo Queen" Tsuji (23-2-0) defeated #19 ranked 115-pound fighter Saori "Shooting Star" Ishioka (11-7-0) by unanimous decision in their two round 115-pound professional MMA match.

Yuka had not fought in over a year and a half since her submission loss to Mei Yamaguchi. Yuka also holds a victory over Mei in 2008. The only other loss on her record came against Anna Michelli Tavares who she later defeated in the rematch.

Yuka trains at La imbecility MMA in Japan.

Expect to see Yuka ranked very high in the next top 25 rankings.