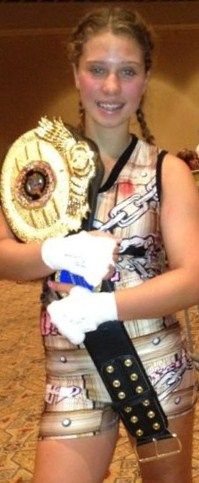 On Saturday, July, 21 at Rosen Shingle Creek in Orlando, Florida, Danika Thibault defeated Masen Nichols by unanimous decision in the finals of the IKF Girls 14-15 Junior Flyweight International Rules Kickboxing World Classic Championship in Orlando Florida.
"It was a challenge," Danika said. "She was tough, she was tall, and a lot heavier.
I basically dominated the whole time," Danika said. "But by the end I got tired and I had to work harder for it."
Danika is now on to part 2 of her quest to win 3 major championships in 3 forms of fighting this year. Next month she will travel to San Diego for the Womens International Grappling Championships. In December she will take part in the Silver Gloves amateur Boxing Championships.
Danika was cornered by Bob Shermer of Combat Do in Cicero Illinois.
Danika's standup coach is Pat White out of AHP Boxing in Aurora Illinois.
Danika is now 4-0 in kickboxing. 1-0 in Boxing and 1-0 in modified MMA.