On Saturday January, 5 at Invica Fighting Championship 4: "Esparza vs. Hyatt" at Memorial Hall in Kansas City, Kansas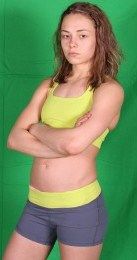 Emily Kagan (2-0-0) will battle Rose "Thug" Namajunas (0-0-0) in a 115-pound professional MMA match.
Emily is a 5'3 31 year old fighter originally from Bangor, Maine now living and training out of Albuquerque, New Mexico at Jackson's MMA.

When Emily was asked why she started in MMA this was her response, "As a small girl surrounded by boys and picked on by brothers, I had a dream of developing physical prowess "dedicating myself to a life of disciplined training, growth and self-betterment."

At eighteen, she began in traditional Jujitsu with the American Jujitsu Association, and four years later received her black belt in 2003. That year, she moved to Israel where she continued her training with the World Ju-Jitsu Federation, a local Muay Thai gym, and a few other Gi and no-Gi grappling dojos. When she returned to the US in 2006, she joined Team Irish MMA Academy of Bangor, ME training under Marcus Davis.

Emily says, "My goal is to become another successful female pro-fighter out there, helping to pave the way for future female fighters and take part in this revolution of women in MMA"

Emily's fighting career began on March of 2010 where she won her first amateur match by unanimous decision over Jessica Martinez. Her following fight in May of 2010 came against Autumn King who she defeated by TKO.

Next came the first loss of her career when she was defeated by Ashley Weakley.

She would bounce back with a split-decision victory over T.J. Cunanan in August of 2010 in the opening round of the Tuff-N-Uff 125 pound tournament. Emily however would suffer an injury and have to pull out of her rematch with Ashley Weakley. She was replaced by the fighter she beat T.J Cunanan who would go on to beat Ashley Weakley and become the Tuff-N-Uff 125 pound champion.

.Emily would return to the cage on February of 2011 to face T.J Cunanan for her Tuff-N-Uff 125 pound title only to lose by first round armbar.

Emily would end her amateur career with two straight wins, one over Valle Rae Mead by unanimous decision and the last win of her amateur career came on January, 21st 0f 2012 against now #3 ranked 125pound amateur Courtney Casey by split-decision. Emily would end her amateur career as a top 5 fighter at 125 pounds with a (5-2) record.
Her pro career started off on September, 8 2012 when she took on Lynae Lovato (0-2) and defeated her by unanimous decision.
On October, 13th of 2012 Emily would get her biggest win to date when she defeated former #1 ranked 115-pound fighter Glena Avila (2-1) by split decision in a 120 pound catch weight match.
This will be the very first time that Emily cuts to 115 pounds, she should be a beast.
Rose is a 5'5 20 year old fighter from Milwaukee, Wisconsin where she is coached by her boyfriend UFC heavyweight fighter Pat Barry and famed coach Greg Nelson at The Academy. She is also coached by Matt Miller for strength and conditioning and Trevor Wittman who she will be training with for her last week and a half in Denver.
I asked Rose what made her want to become a fighter, she responded, "My childhood growing up I was surrounded by Dragon Ball Z, WWE, action movies, and if I wasn't at karate or Taekwondo practice I was practicing fighting with my friends in the neighborhood. We had a lot of imagination so that's where my fascination with martial arts began."
Rose has had a meteoric rise up the amateur ranks, she is currently the #4 ranked 115 pound amateur with a perfect record of (4-0)
She made her amateur debut in August of 2010 against Melissa Pacheco (0-1) who she defeated by TKO due to punches in the first round. Melissa once thought to be a promising fighter has yet to enter a cage since.
She would have her second fight in December of 2011 after almost a year and a half since her first fight and face a much more experienced fighter in Heather Bassett (4-2) who was favored to win. Rose however would win that fight by unanimous decision.
On March, 17 2012 Rose would get in the ring with yet another opponent who had twice the amount of fights as her when she faced off against Moriel Charneski (5-2) She would go on to defeat Moriel by unanimous decision.
Her final amateur fight came on June, 30th of 2012 against the very experienced Jen Aniano (6-7-1) who he defeated by TKO due to referee stoppage in the first round of thier fight.
You can watch Invicta FC on pay-per view for $7.95 starting at 6pm CST at
Invictafc.com