On Saturday January, 5 at Invica Fighting Championship 4: "Esparza vs. Hyatt" at Memorial Hall in Kansas City, Kansas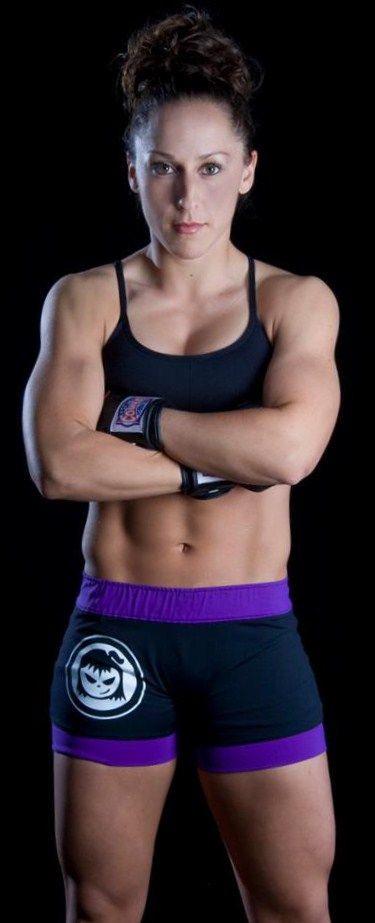 #19 ranked 105-pound fighter Jodie Esquibel (2-0-0) will take on #23 ranked 105-pound fighter Liz "Lighting" McCarthy (1-0-0) in a 105-pound professional MMA match.
Jodie is a 5'1 26 year old MMA fighter and Boxer from Albuquerque, New Mexico where she trains at Jackson's/Winkeljohn's MMA. She is coached by Mike Winkeljohn and Greg Jackson.
She has trained to fight since she was fourteen years old, when she joined Mike Winkeljohn's AKKA, along with teammates Holly Holm, Heather Jo Clark and Nohime Dennisson, primarily to stay in shape. Esquibel had no aspirations to fight at that time; however, nine months after joining, Winkeljohn convinced her to take her first amateur kickboxing match, which she won, and "the rest is history."
She took whatever kickboxing or boxing fights she could, but, as difficult as it is now for females to find amateur fights, whether boxing, kickboxing or MMA, it was even more difficult, several years ago.

For a fighter with a reputation for winning, as well as the rarity of fighters in her weight class, the difficulty of finding a fight forced Esquibel to travel, and eventually, the glaring reality of travel and fighting costs, which are the responsibility of each individual amateur fighter, pushed her, with the guidance of Coach Winkeljohn, to make the choice to go professional boxer in 2005.

Jodie is coming off of a January, 21st victory against Amy Riehle (0-2) by unanimous decision.
Her pro MMA debut was on April, 9th 2011 when she faced Brittany Horton (0-1) by TKO due to a kick and punches. Brittany had never fought in a cage before this fight and she has yet to return to one since.
Jodie did have one amateur fight back in September of 2004 when she defeated Jessica Thompson (0-1) by unanimous decision.
Jodie has never faced a fighter with a single win in all of her three MMA matches.
The story however is very different when you start talking boxing.
Jodie made her professional boxing debut on June, 24 2005, this meant she could no longer fight MMA as an amateur, and we in turn would not see Jodie fight MMA for almost six years, when she decided to turn pro in MMA.
Her boxing career started off very promising in 2005 with three straight wins. She would lose her first boxing match in September of 2006 by unanimous decision. After a win against a debut boxer she would face defeat for the second time when she was again defeated by unanimous decision. She added another win and a draw before going on a three fight losing streak all of which were championship matches. She would win her next fight before losing her most recent fight in December of 2011 for the IFBA Minimumweight Championship. Her professional boxing record currently stands at (6-6-1) (0-4-0) in Championship matches.
Liz is a 5'2 26 year old fighter from Oregon City, Oregon. She trains at Team Quest Tualatin where she is coached by Scott McQuary and Jamie Huey.

I asked Liz why she started in MMA, she replied, " I got into MMA because I had friends that were starting to get into it."

Liz is currently on a seven fight win streak, she ended her amateur career as the #2 ranked fighter at 105 pounds with a record of (6-0)
On July, 28th 2012 Liz would make her professional debut at Invicta FC 2 when she took on the fighter who was ranked above her in the amateur 115 pound rankings Jessica Philippus (7-1) the fighter who I had ranked ahead of her at 105-pounds. Well Liz proved me wrong when she won very impressively over Jessica with a first round TKO due to a doctor stoppage from a huge hematoma forming over the eye of Jessica.
Her amateur victories came against Elizabeth Kelly (0-2) Crystal Jewell (0-4), Shawnee Merrell (2-4) Sarah Lagerstrom (3-4) Jordan McDonald (5-3) and Liz Tracy (1-1) for a combined opponent record of (11-18)
You can watch Invicta FC on pay-per view for $7.95 at 6pm CST at
Invictafc.com