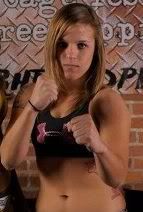 On Friday November, 4 at Disorderly Conduct: "Turf War" at Tip Top Ballroom in Omaha, Nebraska.
Lauren Barefoot (4-0-0) defeated Brittney Van Camp (0-1-0) by TKO (due to strikes) in the first round of their 145-pound amateur MMA match.
In her last fight on August, 19 she defeated Chandra Engel by submission.
Lauren fights out of Omaha, Nebraska at Premier Combat Center where she is Coached by Kurt Podany and John Hansenand. and she is managed by Disorderly Conduct.
To see the fight video click read more below.