On Saturday October, 1 at Blackeye Promotions 5: "Breast Cancer Beatdown" in Fletcher, North Carolina.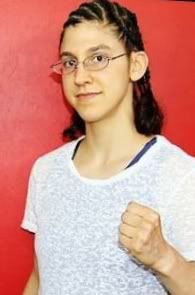 #7 ranked 135-pound fighter Roxanne Modafferi (15-8-0) will take on #11 ranked 125-pound fighter Barb Honchak (4-1-0) in a 125-pound professional MMA match.
Roxanne is currently in the midst of a three fight losing streak (Kaufman, Sexton, Akano) since her victory over #1 ranked 125-pound fighter Tara LaRosa on May, 21 2010.
Barb has won her last three matches in a row (Ansaroff, McAvoy and Herrig) the only loss on her record coming against Cat Zingano in only her second pro fight.
This will be a tough fight and it will come down to who shows better grappling in the cage.