On Saturday October, 1 at Blackeye Promotions 5: "Breast Cancer Beatdown" in Fletcher, North Carolina.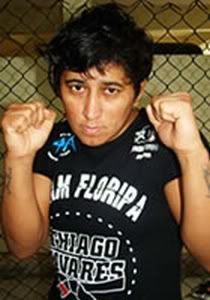 Ashley "Loca" Sanchez (4-2-0) will battle #12 ranked 145-pound fighter Ediane "India" Gomes (7-2-0) in a 145-pound MMA match.
Ashley has won two fights in a row since her three year absence from MMA, including wins over Adriane Sieber and Erin Toughil.
Ediane defeated Katrina Alendal by kneebar on June, 17th, before that she lost to Ronda Rousey by armbar in the first round on March, 27th.