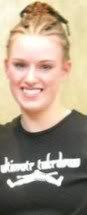 On Saturday February, 19 at Revolution 15 "Title Night" in Monmouth, Illinois
#8 ranked 125-pound fighter Jenna Fox (4-0-0) defeated Ashley Taylor (1-2-1) by split decision in their 130-pound amateur MMA match.
The fight was originally scheduled to be for a 125-pound amateur championship but Jenna Fox was unable to make the 125-pound weight limit her opponent Ashley Taylor however did make the weight limit.
In her last fight also at 130-pounds Jenna defeated Alysa Brown.
Jenna trains with the O.S.E. Wolfpack in Monmouth, Illinois, where she is coached by Beau Admire.