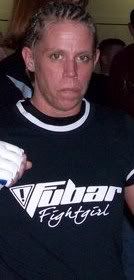 On Saturday February, 26 at NAAFS: "Caged Fury 14" in Clevland, Ohio.
#12 ranked 115-pound fighter Ronda Gale (4-2-0) defeated #13 ranked 115-pound fighter Holly Powell (5-2-0) by split decision in their 115-pound amateur MMA match.
Ronda has now won three fights in a row. In November 2010 she earned a victory over Marcia May, and in September 2010 she defeated Carrie Ann Moore.
Ronda trains at The Dungeon in Akron, Ohio.