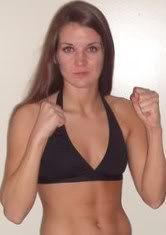 On Friday February, 18 at Legacy Amateur Combat Series in Houston, Texas.
#25 ranked 125-pound fighter Kristy Kester (2-0-0) defeated Jordan Gaza (1-1-0) by TKO (ref stoppage) in the third round of their 120-pound amateur MMA match.
Kristy trains at 4oz MMA in Houston, Texas, where she is coached by Kru Perez, Jeremy Mahon and Bobby Powers.
click below for play by play of the fight.
Rd1: Stiff right by kester lands. teep moves Gaza back. Kesters stand up looks good so far. Gaza is a wiz on the ground so lets see if Kristy keeps it standing. Kristy with a plum but Gaza gets out. Lance just remarked how accurate Kristy's striking is. True statement. Solid knee by Kester…that hurt Gaza. Clinch work at the bell. Kester wins that round.
Rd2: Gaza charged after kester threw some nice shots. Again Kester throwing. Gaza goes for a single. Nope. Back up and Gaza jumps gaurd.UH OH DEEEEEP standing guillotine by Gaza. this could be it. That is deep…Oh my. Kester is out. WOW. crowd goes nuts.
Rd3: Gaza tries to jump guard. Kester pulls her up…walks 2 steps JUMPS IN THE AIR AND SLAMS HER! in mount, Kester pounds her face until the ref stops it! OH MY
Winner: Kristy Kester via TKO in Rd 3