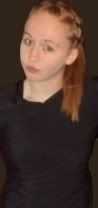 On Saturday June, 25 at King of the Cage: "D-Day" at Royal Oaks Casino in Royal Oak, Michigan, United States.
#9 ranked 125-pound fighter Amber "Iggy" Ignatowski (4-0-0) defeated Theresa Sass (1-2-0)

Amber is the current World Xtreme Combat 125-pound amateur women's champion.
In her last fight she defeated Christianna Daniels by TKO.
Amber trains out of Toledo, Ohio at USA Martial Arts in Holland, Ohio where she is coached by Mike Gray, her boxing coach is Dave Blakeman.