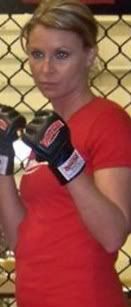 On Saturday May, 28 at E. Peoria Throwdown: "Round VIII" at The E. Peoria Event Center in E. Peoria, Illinois.
Angela O. Farm (1-0-0) defeated Alexis Ross (0-1-0) by TKO in the first round of their 125-pound amateur MMA match.

Angela is from Monmouth, Illinois and trains at Central Illinois Combat Club in Canton, Illinois where she is trained by Bob Long & Ashley Sanchez.