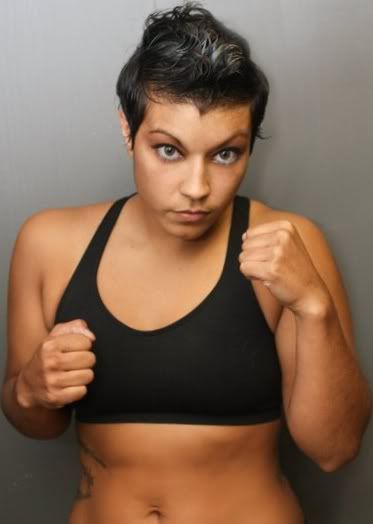 On Saturday May, 28 at E. Peoria Throwdown: "Round VIII" at The E. Peoria Event center in E. Peoria, Illinois.
#19 ranked 135-pound fighter Marissa Smith (3-0-0) defetaed Michelle McCoy (0-1-0) by TKO (due to strikes) in the first round of their 135-pound amateur MMA match.
Marissa who has not fought in two years prior to this fight lives in Galesburg, Illinois and trains out of Central Illinois Combat Club in Canton, Illinois where she is coached by Bob Long and Ashley Sanchez.

She is sponsored by Cat Fight Gear and Caged Aggression.
Marissa raised $300 dollars in ticket sales from the fight and other small donations and she donated it to a man named Kevin Isbell who lost his whole family in the tornado that touchdown in Alabama. Those that were lost included his Wife, seven-year old daughter, Father, and four other members of his family.