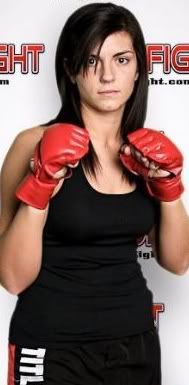 On Friday June, 24 at ShoFIGHT 9: "Ladies Night" at the Mansion Theater in Branson, Missouri, United States.
#15 ranked 155-pound fighter Courtney "The Krakken" Stowe (6-3-0) defeated Katherine Richter (4-4-0) by unanimous decision in their 155-pound amateur championship match.
Stowe (6-3) put on a striking clinic and the audience was chanting her name as she won a clear decision. She dominated Katherine Richter. Stowe retains her ShoFIGHT Women's 155-pound Championship.
In her last fight she defeated Alex Stobbe.
Courtney trains at Branson Fight Club in Branson, Missouri. She is coached by JT Tilley (wrestling/strength & conditioning), Ronnie Sullivan (striking), Shane Carpenter (jui jitsu)