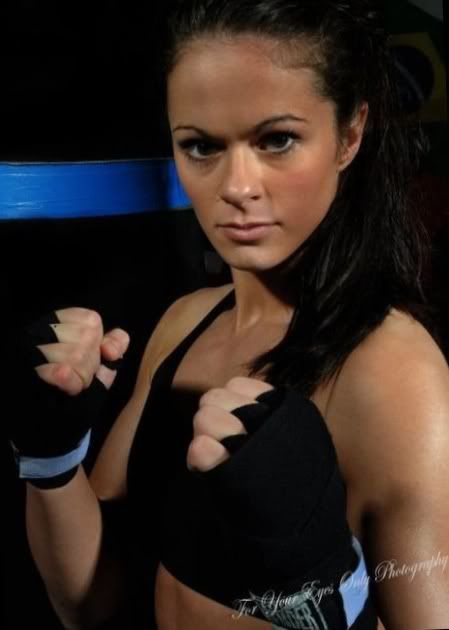 Saturday June, 25 at Crowbar MMA: "Rumble at the Fair" at the Grand Forks Fair Grounds in Grand Forks North Dakota.
Stephanie "Snowflake" Eggink (1-0-0) defeated Trisha Clark (0-2-0) by submission (armbar) in the first round of their 125-pound professional MMA match.
Stephanie is coming off of an impressive amateur career where she held a record of (3-1) with victories against Jillian Lybarger, Katie Klimansky and Cheryl Chan.
The lone loss on Stephanie's record came against #1 ranked 125-pound amateur fighter Jenny Yum in the finals of the Tuff-N-Uff 125-pound amateur Championship tournament.
Before MMA Stephanie began boxing almost four years ago. She was a member of the U.S. Olympic National Boxing Team where she became the United States amateur National Champion and competed for the US in the Pan American Games in Ecuador. Her amateur boxing record was an outstanding (11-1) As a pro she went (1-0-1).
She retired from professional boxing, and now focuses all her training on mixed martial arts. Eggink says she experienced too many politics in boxing and too much arrogance. "MMA is a much more humble than boxing," Eggink says. "In boxing it takes just your hands, in MMA it takes your entire body. You have to give it all."
Stephanie has had to over come very difficult hurdles in her amateur career one was the fact that she is a world class amateur boxer who actually fought as a professional boxer on two occasions because of that it was very hard for her to find fights amidst accusations that she was competing as an amateur MMA fighter unfairly. Aside from that she does not have the best vision and she was forced to wear contacts in her fights and not all commissions including California allowed contacts in the cage.

She trains at Gracie Tampa under Rob Khan who's a blackbelt under Royce Gracie. Her other coaches are Gabe Maldonado and Cristina Rodriguez.
To read the article I wrote on Stephanie Eggink 10 months ago (my first ever interview) click the link below.
To see the fight video clock read more below.