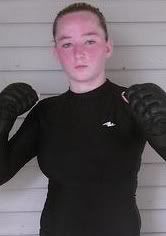 On Friday November 18 at Sudden Impact in St. Louis, Missouri

Holly "Super Bitch" Powell (4-1-0) defeated Kali Bakar (2-2-0) by submission (strikes) in the second round of a 115-pound amateur MMA match.
Holly is the twin sister of professional MMA fighter Amber "Crazy Bitch" Powell and one half of the "Bitch Sisters" She trains at Savage Grappling in Cleveland, Oklahoma where she is trained by her two brothers Chris Powell and Cody Powell she is also trained by Cameron Cady. Holly and Amber are also both trainers at their gym.