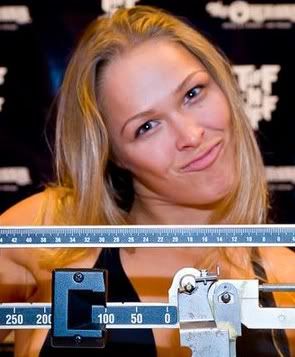 At Tuff-N-Uff in Las Vegas, Nevada,
Ronda "Rowdy" Rousey (2-0-0) defeated Autumn Richardson (3-2-0) by submission (armbar) in the first round.
Ronda Rousey the Olympic Bronze-medalist and two time Olympian dominated this fight by getting Autumn to the ground with a judo toss, then she mounted her and landed several punches before finishing the fight with an armbar.
Ronda, who had Judo Gene Lebell in her corner, now moves onto the semi-finals. She was very confident after the fight saying she hopes to be beating "Cyborg" Santos in about a year.