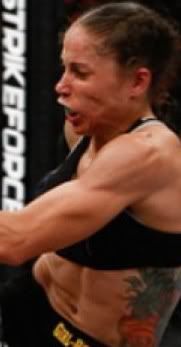 On Friday November, 19 at Strikeforce: "Challengers 12" in Jackson, Mississippi
Liz Carmouche (6-0-0) defeated Jan Finney (8-9-0) by TKO (ground and pound) in the third round of their 135-pound match.
It was a very close first round I actually had it scored in Jan's favor but the second and third rounds were a whole different story as Liz Carmouche dominated the third round with a takedown and finished off Jan Finney with vicious ground and pound forcing the referee to call a stop to the match.
This was a very very impressive victory for Liz, possible future opponents for her include both Shayna Bayzler who also won today and former Strikeforce 135-pound champion Sarah Kaufman.