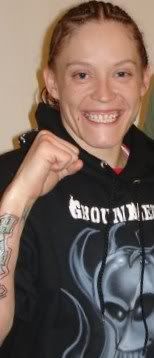 On Saturday March, 12 at Beatdown at 4 Bears 8 in New Town, North Dakota.
Kyane "The Pepper" Hampton (2-3-0) defeated Carrie Campbell (0-1-0) by submission (rear-naked choke) in the first round of their 125-pound professional MMA match.
Kyane is coming off of a loss to Heather Clark in October of 2010.