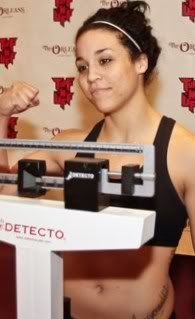 On Saturday March, 12 at Tuff-N-Uff in Las Vegas, Nevada.
#2 ranked 145-pound fighter Taylor Stratford (8-1-0) defeated #11 ranked 145-pound fighter Ashlee Evans-Smith (4-3-0) by submission (rear-naked choke) in the second round of their 145-pound amateur tournament championship match.
Taylor has now won her second 145-pound championship in eight days.
Last week she defeated Amanda Bell to win the Reno Combat 145-pound amateur championship.
The only loss of Taylor's career came in the quarterfinals of the Tuff-N-Uff 145-pound tournament against Ronda Rousey who withdrew from the tournament so that she could turn pro.
Taylor was then asked to move on to the finals where she was supposed to fight Tori Adams who lost in the first round of the tournament but was allowed to pass on to the semi-finals because her opponent Tamikka Brents missed weight. Tori then defeated Ashley Evans Smith in the semi-finals but had to withdraw because of a death in the family.
Taylor who trains out of Reno, Nevada at Reno Academy of Combat has also fought in the past at 135-pounds and in this reporters opinion that is the division she should turn pro at.