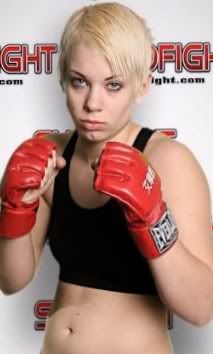 On Saturday March, 26 at Shofight 6: "Branson Beatdown" in Branson, Missouri
Randie Lemons defeated (1-2-0) defeated Alex Stobbe (5-11-0) by submission (arm triangle) in the second round of their 125-pound amateur MMA match.
Randie started Training with Savage Grappling in Osage Oklahoma where she was coached by Cris Powell she was with them in my first fight against Lylna Thao at 135 and lost in the first round by a TKO.
She then moved to Missouri and started training with Team Fusion in Springfield where she is coached by Mike Craft and Eric Stevens.
In her second fight she fought Andrea Whitney at 135 and lost to a three round Decision.