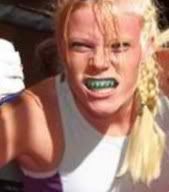 On Friday April, 1 at Ultimate Blue Corner Battles in Kansas City, Missouri.
#3 ranked 105-pound fighter Jina 'The Showgirl" Cole (4-2-0) defeated #12 ranked 105-pound fighter Amanda Hein (2-3-0) by submission (due to strikes) in the first round of their 110-pound amateur MMA match.
Jina defeated Kiesha James in her last match in December of 2010.
She trains at the Bent Bar in Butler, Missouri where she is coached by Shane Barnett and Courtney Landis.