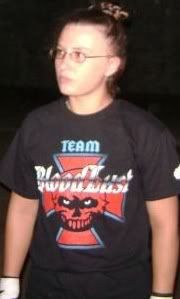 On Saturday April, 2 at Fury Fights: "Bad Blood" in Watertown, South Dakota.
#21 ranked 135-pound fighter Larrisa Murphy (3-3-0) defeated #22 ranked 135-pound fighter Kelly Reilly (4-4-0) by KO in the third round of their 130-pound amateur MMA match.
Larissa trains with The Disciples of Pain in Sioux City, Iowa where she is coached by Bruce Hoyer and Shayna Baszler. She also trains with Bryan Marshall from Marshalls Taekwondo Acemedy in Sioux City along with Jeremy Macklem and her fiance Chris Demara.