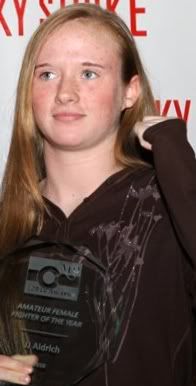 On Friday April, 1 at High Altitude Face-Off 3 in Monte Vista, Colorado.
#22 ranked 135-pound fighter J.J Aldrich (3-1-0) defeated #23 ranked 135-pound fighter Heather Smith (3-2-0) by submission (kimura) in the first round of their 130-pound amateur MMA match.
In J.J's last fight on January, 21 of this year she was defeated by #5 ranked Raquel Pennington.

J.J. trains in Commerce City, Colorado with Freedom Fighters, Rocky Mountin Bad Boyz and May-Tec. She is coached by Mike Silva, Kieth Schmelzer, Cruz Chacon and Mike Brown.