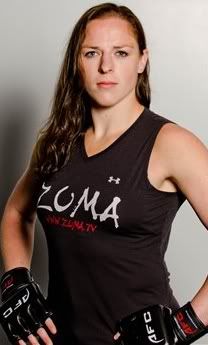 On Saturday April, 2 at Armageddon Fighting Championship 5: "Judgment Day" in Victoria, British Columbia, Canada
#2 ranked 135-pound fighter Sarah Kaufman (13-1-0) defeated Megumi Yabushita (19-18) by TKO (ref stoppage) in the third round of their 135-pound professional MMA match.
Megumi Yabushita was clearly outmatched in this fight as Sarah controlled the entire fight with effective strikes.
Sarah was coming off of the first loss of her career and the loss of her Strikeforce 135-pound championship against current Strikeforce 135-pound champion Marloes Coenen.
Sarah who is still under contract with Strikeforce was allowed to take this fight with Armageddon Fighting Championships due to Strikeforce not scheduling any fights for their former champion. There were rumors that Sarah would have fought Liz Carmouche had she not stepped in for Miesha Tate and taken on Marloes Coenen.
It is my opinion that the next match for Sarah will be in Strikeforce against Liz Carmouche.