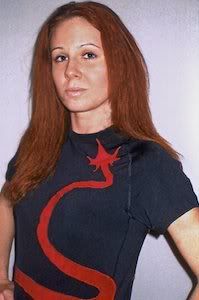 On Friday May, 13 at Xtreme Fighting Organization: 39 at Sears Centre Arena in Hoffman Estates, Illinois.
Amanda 'Red Fox" LaVoy (2-4-0) defeated Michele "Diablita" Gutierrez (3-2-0) by TKO (doctor stoppage due to a cut) in the second round of their 125-pound professional MMA match.
Amanda had lost her last four matches in a row inluding losses to Jessica Eye, Kelly Warren, Patty Lee and Felice Herrig. Much to Amanda's credit she does fight the best in her weight class and always puts on a great fight, she really needed this win and she was able to pullit off with her heart and her toughness.
Amanda trains at Cheetah Cage Combat Center in Monnroe, Michigan
To see the fight video click read more below