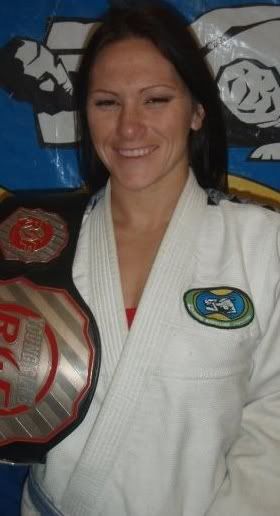 On Saturday May, 14 at Fight 2 Win MMA: "Outlawz" at The National Western Complex in Denver, Colorado.
#4 ranked 125-pound fighter Cat "Alpha" Zingano (6-0-0) defeated #5 ranked 125-pound fighter Takayo Hashi by KO (slam) in the third round of their 125-pound professional championship match.

The Ko happened in the final round as Cat was pressing Takayo with punches, Takayo decided to jump guard and cat caught her in the air and power slammed her down to the canvas for the KO.

Cat who is undefeated now holds wins over Takayo Hashi, Carina Damm, Angela Samaro, Ivana Coleman, Barb Honchak, and Karina Taylor.

It will be very interesting to see what Cat does next she has two obvious options: Go after Tara LaRosa who is fighting for Shark Fights or Go to England and Challenge Rosi Sexton for the Cage Warriors 125-pound title.
Anything less will leave Cat stuck at #4 in the rankings.