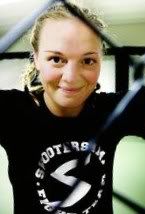 On Saturday May, 7 at The Zone Fighting Championship: "Unbreakable" in Gothenberg, Sweeden.
Elina Nilsson (2-2-0) defaeted Danielle West (3-2-0) by TKO in the second round of their 145-pound professional MMA match.
This has to be considered an upset but by looking at who Elina has lost to, she does fight good competition.
Her last fight was actually a victory against Melissa Lan so Elina has now started to two fight winning streak and I am sure she will be making her debut in the next Top 25 Womens World Pro Rankings.