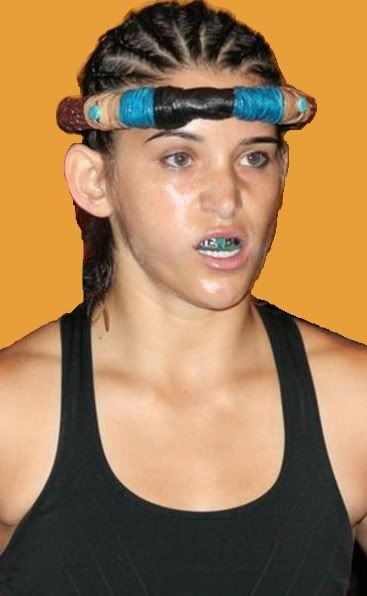 On Saturday June, 18 at WBC Muay Thai Championships in China.
Tiffany VanSoest (0-0-0) will take on Tang "Don King" Jin (0-0-0) in a 125-pound professional MMA match.
Tiffany VanSoest will be the first American to ever compete on the mainland of China in this historic fight.
Tiffany trains at BlackhouseTeam Noguira in San Diego, California.
She holds a (12-1) Muay Thai record her only loss came against Jenna Castillo.
Much like Jenna who now fights for Strikeforce, Tiffany would like to pursue a career in MMA.

Tiffany first approached her trainer Alexander Palma to train her as a Muay Thai fighter less than three years ago. Before training in Muay Thai she competed in Karate.
About a year and a half ago she told her coach that she wanted to try MMA. So slowly they found her a BJJ instructor and when her coach Alexander was approached to be the Head Muay Thai Coach for Black House Team Nogueira he got her a job teaching there as an instructor also and she began to sharpen her skill sets that she lacked (Wrestling, BJJ, etc).
A few months later her coach introduced her to Liz Carmouche and her coach Manolo Hernandez and soon after that Tiffany began to train with them a few days a week to help her incoperate her Muay Thai with the rest of MMA skills.
Titles she currently holds in Muay Thai are:

United States Muay Thai Association Featherweight California Women's Champion

IAMTF Women's US National Featherweight Champion.
To see a very cool video of Tiffany from her last fight click read more below.