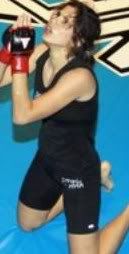 On Saturday April, 30 at NAAFS: "Proving Ground 5" in Akron, Ohio.
#15 ranked 155-pound fighter Maria Messer (3-1-0) defeated #20 ranked 155-pound fighter Allanna Jones (2-1-0) by unanimous decision in their 155-pound amateyr MMA match.
Maria trains with Team NFC out of Logan, Ohio her
coaches are Gary Messer, Jeff Russell, Shaun North and Sam Jones.