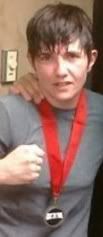 On Friday May, 27 at Tuff-N-Uff: "Future Stars of MMA" at Cox Pavillion in Las Vegas, Nevada.
#9 ranked 125-pound fighter Reagen Benedetti (4-0-0) defeated Katrina Teer (1-1-0) by submission (guillotine) in the first round of their 125-pound amateur MMA match,
Reagan started her amateur career less than a year ago on July, 17 when she defeated Gaby Sabalas by guillotine in the first round of their fight. Since then she has been on a tear defeating top ranked fighters Amy Cadwell and Maylee Rahn on her way to the top of the 125& 115-pound rankings.
Reagen trains at Alderwood Mixed Martial Arts in Lynwood, Washington under "Team Wise" She is coached by coach is Aric Wiseman.