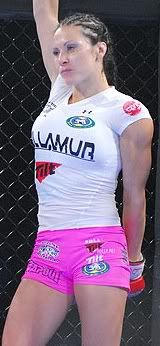 On December, 10 at Crowbar MMA: "Winter Brawl" in North Dakota
#6 ranked 125-pound fighter Cat "Alpha" Zingano (5-0-0) defeated #4 ranked 125-pound fighter Carina "Beauty but the Beast" Damm ( 15-5-0)by TKO in the second round of their 125-pound professional MMA match.
Cat Zingano remained undefeated by totally dominated this fight both standing and on the ground she lalnded at will and took Carina down at will, once on the mat Cat would mount Carina and ground her out for the TKO.
This was a very impressive showing and sends a very clear message to the rest of the 125-pound division, Watch out!