Jewels postergirl Saori "Shooting Star" Ishioka has a busy month ahead. Already tentatively set to compete on the first DEEP card in Macau, China on January 8th, Ishioka will also face once-beaten prospect Yuko "Amiba" Oya in a 52kg reserve match at Jewels: "Eleventh Ring" on December 17th.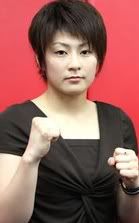 MMARising.com first learned of Ishioka's participation on the Jewels card last month and confirmed plans for the bout with Oya with Jewels officials this evening. A previously announced fight between Hiroko Yamanaka and Randi Miller is officially off, but Yamanaka will likely remain on the card.
Ishioka (10-5-0) was unable to advance beyond the quarterfinals of the Jewels Lightweight (115-Pound) Queen Tournament, but will now look to take another step back towards title contention against Oya. Ishioka has won three of her last four fights since a competitive loss to Megumi Fujii, but suffered a one-sided defeat to unbeaten Club Barbarian prospect Sakura Nomura on July 31st. The loss prevented Ishioka from reaching the semi-finals of the 115-pound tournament, which will crown the first Jewels champion to date. Having since defeated Celine Haga, Ishioka will aim for her second straight victory at "Eleventh Ring," but will face a tough challenge.
Oya (5-1-0), a grappling specialist, has put together three straight wins since suffering her lone career defeat in 2009. She holds a trio of submission victories in mixed martial arts bouts and has also had success in grappling tournaments. At 5'2″, Oya is the same height as Ishioka, but will likely give up a small size and strength advantage to the karate practitioner. However, her submission skills arguably outshine Ishioka's and a win over one of the top stars in Jewels could propel Oya into the spotlight of title contention.