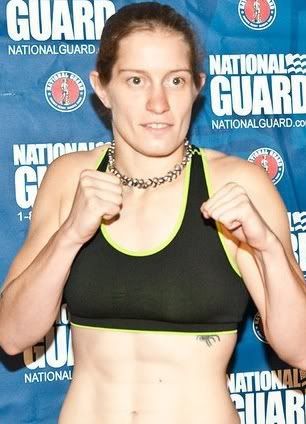 I went 2-2 last week, so first I must apologize for picking against Cat Zingano, I doubt after that performance, that I will be picking against her in her next fight, whoever it may be.
I also picked Cindy Dandois who lost a controversial match to Yana Kunitskaya.
Let's start with,
Julie Kedzie (14-8-0) vs. Sarah D'Alelio (4-0-0)
Sarah D'Alelio: She has finished all four of her fights by TKO or submission.
Now next is Jewels 11th Ring
Seo Hee Ham (5-3-0) vs. Mika Nagano (7-3-0)
Mika Nagano
Ayaka Hamazaki (2-0-0) vs. Sakura Nomura (3-0-0)
Sakura Nomura
Ham/Nagano vs. Hamazaki/Nomura
Mika Nagano
Saori Ishioka (10-5-0) vs. Yuko Oya (5-1-0)
Saori ishioka
Kikuyo Ishikawa (3-2-0)vs. Yukiko Seki (7-19-0)
Kiyuko Ishikawa
Hiroko Kitamura (5-1-0) vs. Mai Ichii (4-4-0)
Hiroko Kitamura
Mizuki Inoue (1-0-0) vs. Asako Saioka (4-3-0)
Mizuki Inoue
Miki Morifuji (10-6-0) vs. Kinuka Sasaki (3-8-0)
Miki Morifuji
Shizuka Sugiyama (6-2-0) vs. Esui (0-1-0)
Shizuka Sugiyama
Miyoko Kusaka (1-2-0) vs. Asami Higa (0-0-0)
Miyoko Kusaka
Emi Murata (1-1-0) vs. Anna Saito (1-4-0)
Emi Murata
Hiroko Yamanaka (10-1-1) vs. Molly Helsel (8-11-1)
Hiroko Yamanaka: Hiroko is just too big too long and too good.

Other Fights
Milana Dudieva (5-1-0) vs. Sheila Gaff (3-1-0)
Shiela Gaff: I'm picking Gaff based off her striking performance against Cindy Dandois a few months ago.
Jennifer Berg (1-2-0) vs. Lisa Jeanson (0-0-0)
Jennifer Berg: She has performed well in all her fights, it's her time.