On Friday December, 17 at ProFC 22 in Rostow Am Don, Russia
#8 ranked 145-pound fighter Sheila "The German Tank" Gaff (7-3-1) will go head to head against #11 ranked 145-pound fighter Milana Dudieva (5-1-0) in a 145-pound professional MMA match.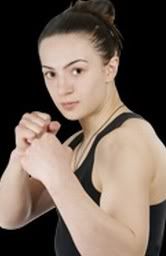 Sheila is coming off of her May loss to Cindy Dandois, in which she hurt Cindy, knocking her down several times. she ended up losing the fight that many thought she was winning by hitting Cindy with an illegal knee to the head of a downed opponent. She was disqualified after it was determined that Cindy could no longer continue to fight.
Milana Dudieva who is from The Republic of North Ossetia-Alania, Russia is coming off of a TKO victory over Ludmila Delicheban in April.