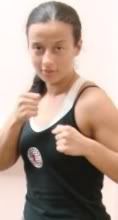 We're talking with Marianna Kheyfets, a 135lb MMA fighter for XFC. Her pro record is 1-0, and she is looking to go 2-0 this Friday in Tampa, Fl at XFC 13: Unstoppable. The fight will be broadcast live on HDNet.

Hi Marianna. Thank you for taking the time to talk with fightergirls.com. We really appreciate it.

Fightergirls: Can you tell us where you're from, where you train, and how you got started in competing in MMA?

Marianna Kheyfets: Hello Again! I'm a 25 year old MMA fighter from Stamford, CT and I train out of American Top Team/Best Way BJJ in Danbury, CT. I started training MMA with American Top Team in Florida before moving back to CT last year but
before then I practiced different martial arts as a kid and competed in kickboxing.
To read the entire Interview click here