On Tuesday January, 8 at Deep "Mayhem in Macao at the Venitian in Macao, China
#12 ranked 115-pound fighter Saori "Shooting Star" Ishioka (10-5-0) will battle Ann Tipsuta Wongkhamma (1-0-0) in a 115-pound professional MMA match.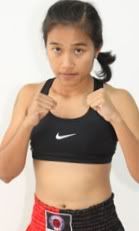 Saori Ishioka is a veteran and poster girl of the Japanese based Jewels promotion, an all female MMA fight promotion.
In her last fight at Jewels 10th Ring on October, 10th she defeated Celine Haga by unanimous decision. she holds quality wins against #7 ranked 125-pound fighter Sally Krumdiak and #14 ranked 115-pound fighter Mika Nagano
Ann is a Muay Thai fighter with a Muay Thai record of (10-4-1) she trains out of Muay Chaiya in Thailand.