On Saturday January, 5 at Invicta Fighting Championship 4: "Esparza vs. Hyatt" at Memorial Hall in Kansas City, Kansas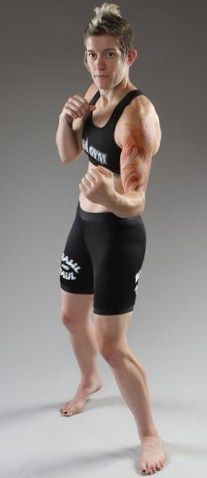 #11 ranked 135 pound fighter Amanda "Lioness of the Ring" Nunes (7-2-0) will go head to head versus #13 ranked 135 pound fighter Sarah "The Monster" D'Alelio (6-3-0) in a pivotal 135 pound match-up.
Amanda is a 5'7 twenty-four year old fighter originally from Salvador, Brazil. She is currently living and training in Miami, Florida with Master's MMA.
Amanda last fought on July, 28th at Invicta FC 2 when she defeated Raquel Pa'aluhi (2-4) by first round rear-naked choke.
The last loss of her career came against Alexis Davis for Strikeforce in September of 2011 by TKO due to punches in the first round of thier match.
The only other loss of her career came against Ana Maria (3-4) in her pro debut back in March of 2008.
She holds victories over three very highly ranked fighters all three of which currently are in title contention for Invicta FC. The most recent of the three is Julia Budd who Amanda knocked out with a punch at fourteen seconds of the first round at Strikeforce in January of 2011. In February of 2010 Amanda defeated #2 ranked 145 pound Invicta title contender Ediene Gomes by TKO due to punches in the second round of their match in Brazil. The other victory came against #1 ranked 125 pound fighter Vanessa Porto in December of 2009 in Brazil.
The first three victories of her career came against relatively unknown fighters Dayse Lee (0-1) Nadja (0-1) and Paty Barbosa (0-1) A friend of mine refers to these ladies as debutante's: (Fighters who are just thrown into the ring to get beat by a local favorite.) She did however beat all those girls by TKO due to punches so maybe they were serious contenders who just had thier mind changed by the lioness of the Ring. (Literally thier minds were changed by the headaches they must have felt days and weeks later.)
Sarah is a 5'7 thirty-two year old fighter originally from Olympia, Washington where she trains at Olympia Jiu Jitsu. She now lives and fights out of Dublin, California at Combat Sports Academy.
Invicta FC.com describes Sarah as an, "Excellent ground fighter. Aggressive with submission attempts and ground and pound.
In her last fight on October, 6th at Invicta FC 3 Sarah lost in dominant fashion to Shayna Baszler by second round rear-naked choke.
At Invicta FC 2 on July, 28th she defeated now #1 ranked 125 pound fighter Vanessa Porto who will be attempting to become the very first Invicta FC 125 pound champion at Invicta 5 which will take place either in late March or early April. Sarah defeated Vanessa by reverse triangle choke and received Submission of the Night honors.
At Invicta FC 1 Sarah faced off against Vanessa Mariscal and defeated her by submission due to punches with some monstrous ground and pound in the second round of thier match.
Life before Invicta for Sarah saw her coming off a two fight losing streak, starting with her loss to Invicta FC commentator #9 ranked 135 pound fighter Julie Kedzie by unanimous decision. Then came her fight against Ronda Rousey on August, 12 2011 in which she lost by submission due to an armbar. Sarah yelled out in pain to but did not tap to the armbar. The referee Steve Mazzagatti maintained that he stopped the fight because Sarah yelled out in pain.
Sarah began her career (4-0) with victories against very good competition for a fighter with her experience at the time including her wins over fellow Invicta FC fighter Raquel Pa'aluhi (2-4) Melissa Steele (1-3) Colleen Schneider (3-4) and Sarah Oriza (1-6)

A win for either of these fighters especially in my opinion Amanda, can go a long way towards one of them fighting for a future Invicta FC 135 pound Championship.
You can watch Invicta FC on pay-per view for $7.95 at 6pm CST at
Invictafc.com
Photos courtesy of Esther Lin & Invicta FC