On Friday January, 4 at Invicta Fighting Championship 4 at Memorial Hall in Kansas City, Kansas
#17 ranked 115 pound fighter Joanne Calderwood (4-0-0) will battle Livia "T-Rex" von Plottenberg (1-0-0) in a 115 pound professional MMA match.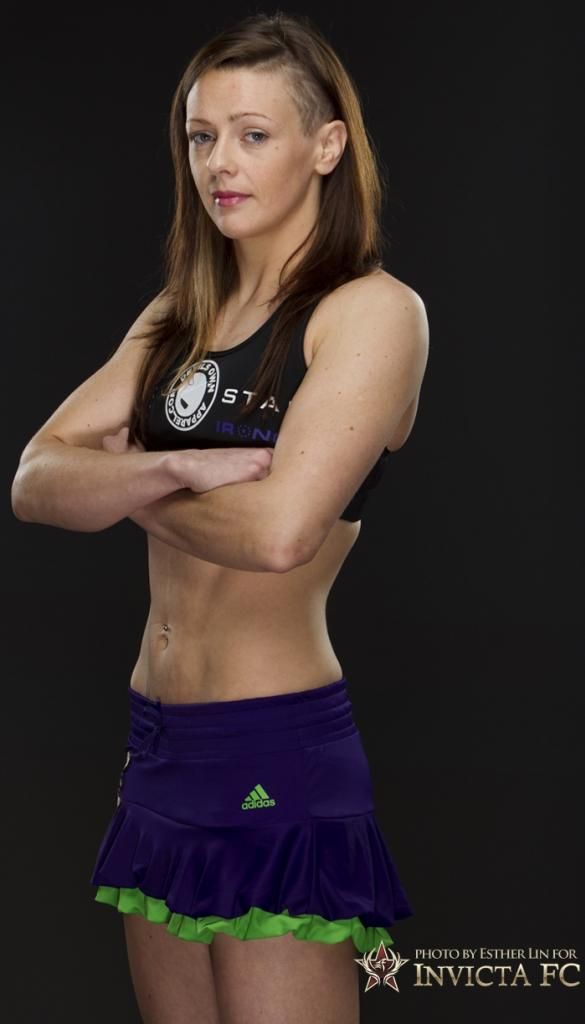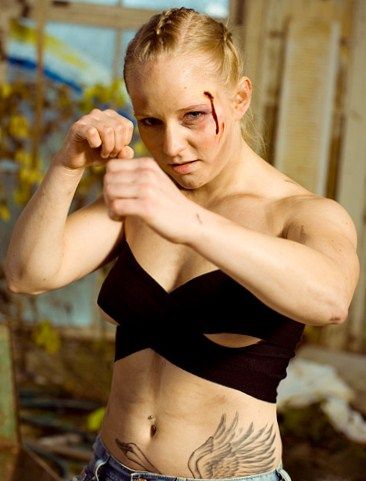 Joanne is a 5'6 twenty six year old fighter originally from Kilmarnok, Scotland now living and fighting out of Glasgow, Scotland. She trains at Dinky's Ninja's where she is coached by James Doolan and Paul McVeigh.
I asked Joanne what got her started in MMA and this was her answer, "I got started in MMA for a new challenge and because there wasn't a lot of Thai boxing fights around."
Joanne is coming off a very impressive win at Invicta FC 3 against Ashley Cummins (3-1)who she defeated by TKO when she landed a beautiful knee to the solar plexus of Ashley causing her to double over in pain as Joanne finished her off with ground and pound from the standing position.

Before coming to the United States to defeat former #1 ranked amateur 115 pound fighter Ashley Cummins, it could have been said that Joanne had only ran through her opponents across the pond because of the lack of competition that is available to fighters in Europe, but that clearly was not the case when she defeated Ashley.

Other wins for Joanne have come against Ainara Mota (0-1) by TKO due to punches.

Joanne first made a name for herself in May of 2012 when she upset highly ranked 125 pound fighter Lena Ovchynnikova (8-2) by unanimous decision.

Joanne made her pro debut in February of 2012 when she defeated Noellie Molina by TKO due to punches in the first round of their match.


Livia is a 5'2 twenty four year old fighter originally from Viena, Austria who now lives and trains out of Team Quest in Portland, Oregon where she is coached by Matt Lindland.

I asked Livia why she began to train in Muay Thai, "What got me started was pretty much boredom. It was summer holiday three years ago, I didn't have to study for University, a newsletter brought Fox Gym, my first gym in Vienna, to my attention, I went there, tried a class and stayed. Three weeks later I watched some fights and decided that I wanted to be a fighter."

Livia fought in Muay Thai and kickboxing before she fought in MMA and her overall record is (12-6) She has fought twice in Thailand. She is also the 2011 K-1 European Professional Champion.

She made her professional MMA debut on June, 3rd 2012 when she defeated Fabienne Winzeler by TKO due to punches.
Joanne was originally scheduled to fight Bec Hyatt who has moved up to the main event to face Carla Esparza for the Invicta 115 pound championship. The fight was first offered to Joanne who felt it was not enough time to prepare for a title fight.
You can watch Invicta FC on pay-per view for $7.95 at 6pm CST at
Invictafc.com