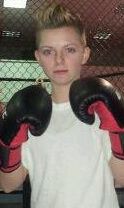 On Saturday January, 12 2013 at Amateur Fight Club "MMA Green Day" at The Angry Bull Steakhouse in Port Huron, Michigan.
Destiny Soulliere (1-0-0) defeated Megan Davenport (0-2-0) by unanimous decision in their amateur open-weight MMA match.
Destiny is a 5'2 sixteen year old from Port Huron, Michigan where she trains at Amateur Fight Club. She is coached by Lloyd Baldock, Glen Hunter, Zach Howe, Justin Dodge, Keith Hubbard, and Jay Corleone. Her opponent seventeen year old Megan is also one of her teammates. This was an open weight match with Destiny weighing in at 125-pounds and Megan weighing in at 158-pounds.
I asked Destiny what got her started in MMA and this was her answer, "I've always wanted to fight, but I wanted to it legally and not street fighting, I was jumped three times and decided I would get some defense training so I could protect my self. My uncle trains too so he helped me get in."