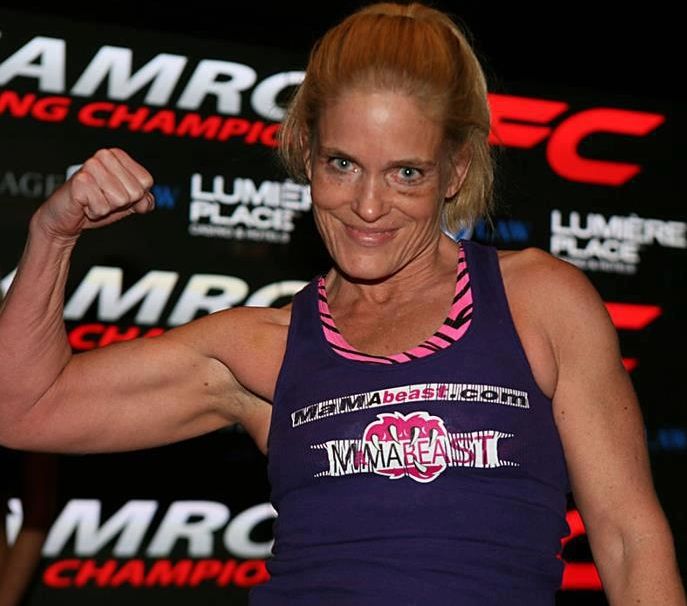 On Saturday January, 26 2013 at Shamrock Fighting Championship: "Fury" at The Lumiere Place Casino in St. Louis, Missouri.
#13 ranked 135-pound fighter Susie "Mama Beast" Wyatt (5-1-0) defeated #33 ranked 135-pound fighter Melissa Shepard (3-1-0) by submission (armbar) just :34 seconds into the first round of their 130-pound amateur MMA match.
Susie is a 5'3 forty-seven year old fighter from Saint. Louis, Missouri. She trains at Finney's MMA where she is coached by Strikeforce veteran Jesse Finney for standup and Strikeforce veteran Black Belt Kiko France and Black Belt Ezra Lenon for Jiu Jitsu. She also trains under David Mirikitani for Wrestling.
I asked Susie how long has she been training and what got her started in MMA and this was her answer, "I stared training because I am always looking for a physical challenge and was looking for something to do for me. I am a single mom and a caregiver and I always am caring for others. I wanted to show my kids that having your own interests and goals were important also. I started with kickboxing but my size made it hard. I decided to try Jiu Jitsu and fell in love! I am Missouri State BJJ No-Gi Champ 2 years running and I just started Gi and oi won that this last year. I have won many Gods at NAGA tournaments and recently took Gold in WPF Worlds for my age bracket for Pankration and Ammy MMA. I took Bronze in the younger category.
I started training about 3 years ago with KB...Jiu Jitsu about 2 years now. My love is Jiu Jitsu my Coach Ezra Lenon Recently beat Pablo Popovich at a No-Gi worlds competition. I have amazing trainers. I feel very honored that they let me fight MMA as I am a 47 year old grandmother of 2 mother of 4. I teach Fitness classes at Washington University and St. Louis Workout and am a Massage therapist."
She would also like to thank her sponsor
www.wearTitleShot.com
who provided her gear for this fight.