On Saturday January, 5 at Invicta Fighting Championship 4: "Esparza vs. Hyatt" at Memorial Hall in Kansas City, Kansas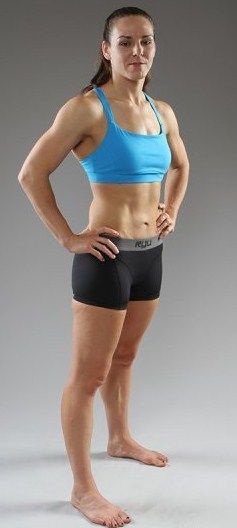 #6 ranked 135 pound fighter Shayna "Queen of Spades" Baszler (15-7-0) will face off against #7 ranked 135 pound fighter Alexis "Ally-Gator" Davis ( 12-5-0) in a 135 pound professional MMA rematch.
The first fight between these two ladies took place on March, 27th 2010 when Shayna Baszler defeated Alexis Davis by unanimous decision.
Shayna is a 5'7 thirty-two year old fighter from Sioux Falls, South Dakota where she trains at Next Edge Academy of Martial Arts and CSW.
She is coming off of a very impressive second round rear-naked choke win over Sarah D'Alelio at Invicta FC 3 on October, 6th.
Before that at Invicta FC 2 on July, 28th Shayna would lose by unanimous decision in a fight that some felt she should have won, against Olympic silver medalist in wrestling Sara McMann.
Before fighting for Invica Shayna was having a tough time finding fights and had not fought for nearly two years before her fight with Sara. Her last match was on November, 19 2010 when she defeated highly ranked 145 pound fighter Elaina Maxwell by first round kneebar.
All of Shayna's losses have come to top competition and her last loss before McMann came in June of 2009 when she was defeated by unanimous decision at Strikeforce by Sarah Kaufman.
Other losses have come against Cristiane "Cyborg" Santos in July of 2008, when she was just demolished by Cyborg with a second round TKO loss due to punches. In February of 2007 Shayna would lose to Tara LaRosa by TKO due to punches in the second round of thier match. She also holds two losses to fellow women's MMA pioneer Amanda Buckner who defeated her by first round armbar in thier first fight and by TKO due to punches in thier second fight. The first loss of her career came back in may of 2004 when she was defeated by Kelly Kobold by submission due to punches.
A impressive as the list of women who have defeated Shayna is, even more impressive are the fighters Shayna has defeated. Starting MMA back in October of 2003 Shayna ran off two straight victories by defeating little known fighters Tina Johnson (0-1) and Christy Zimmerman (0-1) After her first loss to Kelly, Shayna would again win her next two fights this time against Heather Lobs (0-1) and Cindy Romero (0-2) All four of Shayna's victories to start off her career would be won by submission.
Her next win would come after her first loss to Amanda Buckner when she defeated Invicta FC commentator Julie Kedzie by first round armbar. After her second loss to Amanda, Shayna would rebound with a very impressive win over Roxanne Modafferi by first round kimura. After her loss to Tara LaRosa, she would go on to win her next four fights, which is the longest winning streak of her career. The streak included wins over Samantha Anderson (0-2) Jan Finney (8-10) Jennifer Tate (5-1) and Keiko Tamai (16-15) All four wins would be by submission. After the first and only two fight losing streak of her career Shayna would bounce back by defeating Megumi Yabushita in January of 2010. This victory was by first round submission due to a twister. Shayna had done something no one before her or no one since has ever done and that is she submitted the first eleven women that she ever defeated. None of those first eleven wins would go to decision. her next fight however in March of 2010 would go the distance and Shayna would walk away with her first unanimous decision victory over Alexis Davis. She would end her second four fight winning streak with a victory over A.J Jenkins in June of 2010 and her previously mentioned victory over Elaina Maxwell.
Alexis is a 5'5 twenty eight year old fighter originally from Port Colborne, Canada and now living and training in San Fransisco, California with The Cesar Gracie Fight Team where she is coached by Alessandro Ferreira and Combat Sports Academy where she is coached by Kirian Fitzgibbons.
I asked Alexis how she started in MMA and this was her response, "I had kick boxing classes and not long after I was persuaded to join in Brazilian jiu jitsu. After falling in love with both Martial Arts I was introduced to sparring. I soon fell in love with that too.. After watching one of my team mates train for an up coming fight, I knew that was a path I wanted to take as well. And even after losing my first fight I still loved it and still continued to train everyday!"
As Alexis stated she started her career off with a loss that was back in April of 2007 when she was defeated by Sarah Kaufman. As she also stated she continued to train hard and the result was a six fight winning streak between may of 2007 until November of 2008. Victims of the tear that Alexis was on include, Jody Wadsworth (1-1) Tannaya Hantelman (3-4) Valerie Letourneau (4-3) Lizbeth Carreiro (5-10) Kat Roy (2-2) and Margarita Kolmykova (0-1).
The person that would bring an end to that winning streak would be Tara LaRosa who would defeat Alexis by TKO due to doctor stoppage in the third round of thier great fight.
Alexis would win her next fight in October of 2009 when she defeated Molly Helsel by unanimous decision. Her next fight in march of 2010 would be her unanimous decision loss to Shayna Baszler.
Alexis next two wins would come against Tonya Evinger first in May of 2010 when Alexis won by third round rear-naked choke. The other win came in November of 2010 and ended with the same result making Alexis the Raging Wolf 135 pound champion. Between those two wins over Tonya, Alexis would face Elaina Maxwell in what was supposed to be for the Raging Wolf 135 pound championship but because Elaina did not make weight, was changed to a three rounder with Elaina taking the unanimous decision.
On July, 30th 2011 Alexis would get the call to the big show to face Julie Kedzie at Strikeforce and after another great match she would take the unanimous decision victory. Next for Alexis was Amanda Nunes who she dominated and defeated by TKO due to punches in the second round of thier match. Next was a shot at the former Strikeforce 135 pound champion Sarah Kaufman. This fight would go on to becoming one of the greatest matches in Women's MMA history and is probably the runner-up to the greatest Women's fight of all-time, Smith vs Young I. Sarah would come out on top with a razor thin majority decision.
A new chapter in the career of Alexis would begin on July, 28th 2012 when she would join Invicta FC and take on Hitomi Akano. Once again Alexis would look dominant and take an easy rear-naked choke victory against a very good fighter in the second round of thier match.
This fight is too close to call. Both fighters are the best they have ever been and nothing near the two fighters who faced eachother almost three years ago.
You can watch Invicta FC on pay-per view for $7.95 at 6pm CST at
Invictafc.com
Photos courtesy of Esther Lin & Invicta FC