On Saturday January, 5 at Invicta Fighting Championship 4: "Esparza vs. Hyatt" at Memorial Hall in Kansas City, Kansas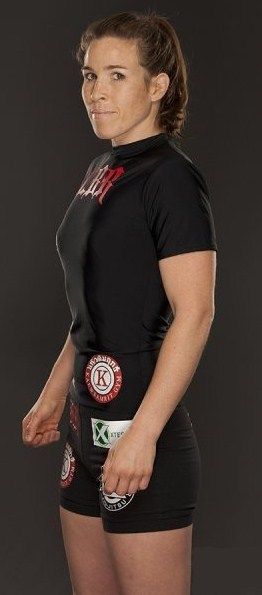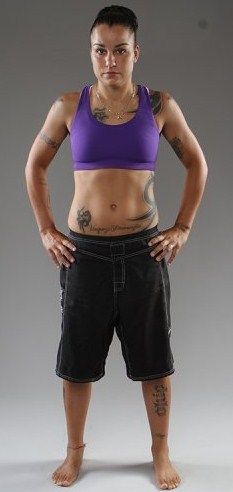 #14 ranked 135 pound fighter Leslie "The Peacemaker" Smith will face #24 ranked 135 pound fighter Raquel "Rocky" Pennington (3-2-0) in a 135 pound professional MMA match.
Leslie is a 5'9 135 pound fighter from Pleasant Hill, California where she trains at Cesar Gracie Jiu Jitsu. She is coached by Cesar Gracie, Alessandro Ferreira for (Jiu Jitsu and MMA) Mario L'Esperance (Boxing) Mark Wine (Strength and Conditioning) Travis Lee (Wrestling) and Jongsanon (Muay Thai)
Here is Leslie's response to my question of why she began training in MMA, "I started training when I found out there was a team operating out of the Bally's Total Fitness I was working at. I had a fight a month later and it went great. That was in Colorado Springs with the Kongo Do fight team. I then moved to the bay area three and a half years ago to train full time and that's when I joined the Cesar Gracie team.
She is coming off of her very exciting win over Kaitlin Young (7-7-1) on October, 6th at Invicta FC 3 by TKO due to punches in the second round of their rematch.
The rematch came after Leslie and Kaitlin won fight of the night and most likely WMMA fight of the year for thier memorable battle on April, 28th at Invicta FC 1.
Before Invicta Leslie fought in the 145 pound division and the last time she would do that would be against #2 ranked 145 pound fighter Ediene Gomes who defeated her by unanimous decision in their October, 2011 match for Blackeye Entertainment. The only other loos that Leslie has is a May 2009 unanimous decision loss to Kerry Vera.
Her other wins have come against Julia Griffin (2-3) Louise Johnson (2-2) twice.
She also fought as an amateur and went (3-0) with wins over Anita Rodriguez, Samantha Blair and Dannette Beniamino.
Raquel is a 5'7 twenty-four year old fighter from Colorado Springs, Colorado. She trains at Kongo Do.
She is coming off a very one-sided second round rear-naked choke loss to Cat Zingano at Invicta FC 3. Raquel says she was very sick the Thursday before the fight even needing IV's, and she was very close to pulling out of the fight.
Before that loss Raquel had won two fights in a row with wins over Raquel Pa'aluhi by second round rear-naked choke and Sarah Moras by unanimous decision at Invicta FC 2 on July, 28th 2012.
The only other loss on Raquel's pro record came on June, 22nd 2012 when she was defeated by Tori Adams by unanimous decision at a catchweight match of 140 pounds.
Raquel started her pro career off with a bang when she defeated Kim Couture by second round TKO due to knees to the body.
Before turning pro Raquel ended her amateur career as the #1 ranked fighter in the 135-pound division with a outstanding record of (7-1) and five amateur championships. Her only loss came against the former #1 ranked 135 & 145 pound fighter Taylor Stratford.

Her amateur wins came against such great amateur fighters as Heater Sachleban, J.J. Aldrich, T.J. Cunannan and Kyane Hampton twice.
I believe is Leslie can win this fight in impressive fashion she might have a shot at getting to fight for the very first Invicta FC 135 pound Championship later this year, maybe even at the next Invicta in late March or early April.
You can watch Invicta FC on pay-per view for $7.95 at 6pm CST at
Invictafc.com
Photos courtesy of Esther Lin & Invicta FC