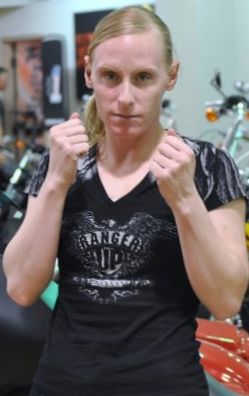 On Saturday January, 26 2013 at Sugar Creek Showdown 5: "Frost Bitten" at The Sugar Creek Casino in Hinton, Oklahoma.

Rebecca Adney (1-1-0) defeated Kelsey Adkins (3-1-0) by unanimous decision in their 125-pound amateur MMA match.

Rebecca is a 5'3 twenty-nine year old fighter from Lawton, Oklahoma. She trains at Ft Sill, Bad Boys Boxing and Fitness Gym. She has also trained in Killeen Texas. Her coach is Cedric Marks

I asked Rebecca how long has she been training and what got her started in MMA, this was her answer, "I started training in 2010. I was asked to spar another female one day not knowing much about MMA except army Combatives. I enjoyed sparring and did well for not knowing much. Like mentally and physically being challenged and MMA is definitely the sport for that."